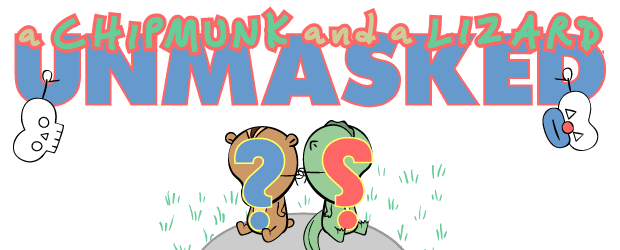 Until the spring of 2011, when Chipmunk and friends started doffing their masks,
readers would often ask what the cast of a Chipmunk and a Lizard
looked like behind their masks. And we would often reply: "What masks?"
Really, we had never seen them without their masks either.
So we asked for our readers' for their ideas on the matter and shared their renditions right here.
Our readers are a talented and imaginative crowd.
#17 by: Joke, Belgium, Age 17
#16 by: Sami, Age 19. On the fly!
#15 by: Seth H. originator of aCaaL's Comixpedia entry!
#14 by: Brian Caudle, Austin TX, Age 24
#13 by: Angel Granata, Age 20, angel_monster2003(at)yahoo.com
#12 by: Laura B
#11 by: Ray Young
#10 by: Lucy
#9 by: Sunny, ih8u_5(at)hotmail.com
#8 by: Joy Fletcher, Age 21, totalymessed(at)hotmail.com
#7 by: Sam, Age 10
#6 by: Scottie, xkingarthurx(at)gmail.com

#4 by: Sarah "Action" Jackson, Age 19, sarah.jackson(at)teenmania.org
"I WOULD LIKE TO GIVE A SHOUT OUT TO GROUP ADVENTURES!
WE'RE THE BIGGEST CHIPMUNK AND LIZARD FANS EVER!!!
And this is what I think they all look like without their masks…
as you can see…they're hideous…that's why they wear masks!
Ps- just in case you were wondering…yes…that is a beauty mark on chipmunk's cheek."

#5 "This is another version of what I think they look like without masks…JUST LIKE US!
That's Matt as Chipmunk, myself (Sarah) as Lizard (my favorite character!), Kyler as Bird, and Tangerine as Bat.
They wear masks because if anyone knew that they really looked like us,
we would be overwhelmed with fans, paparazzi, and what not…you understand.
I WOULD LIKE TO SAY A BIG THANK YOU TO MY WONDERFUL GROUP ADVENTURES INTERNS!
I WOULDN'T BE HERE IF IT WASN'T FOR YOU GUYS! THANKS FOR BELIEVING IN ME!
PS – Saaap! (jerk head back quickly) double slap! That's the Group Adventures handshake!"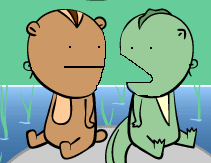 #3 by: James, timekeeper200(at)gmail.com
#2 by: Owen Lorion, creator of Money Talks, where it really does!
#1 by: Anonymous
"My guess would be that underneath the masks, they are all the same.
Scared and alone. Wish I could be more fun about it.
But that is what I think. : ) "



a Chipmunk and a Lizard is TM and © 2006, 2005, 2004, 2003, and 2002 J. Thayer & H. August.
All contents of these pages © 2006, 2005, 2004, 2003, and 2002 J. Thayer & H. August.
All rights reserved.